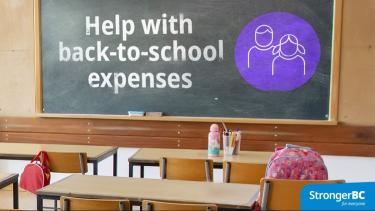 Abbotsford Receives $1.9M From Province for One-Time Funding
September 1, 2022
(Abbotsford) — The provincial government is providing $60 million in one-time funding to school districts across the province to support families with back-to-school costs. Earlier this week, the B.C. government announced they are using funding from the Student and Family Affordability Fund toward back-to-school costs to assist families struggling with the rising cost of living due to inflation.
"Over the past few years, we've become increasingly aware of the need to improve our school district's food supply and food security as the number of students requiring support continues to grow," notes Dr. Stan Petersen, Chair of the Abbotsford Board of Education. "With heightened economic pressures, this one-time funding will allow us to expand food programs for our students, like our Breakfast Programs and Starfish Backpack Program, and ensure our most vulnerable students are provided for throughout the entire school year."
The funding is the first step in the government's commitment to making sure students are properly fed for learning and is working with school districts to support the expansion of food and meal programs.
Over the next few weeks, the Abbotsford School District will be consulting with leadership teams, schools, Indigenous communities and its District Parent Advisory Council (DPAC) to determine how this money can best support the specific needs of families in the community. A summary report of the consultation findings will be brought forward to the Board of Education at the September 20th public meeting.