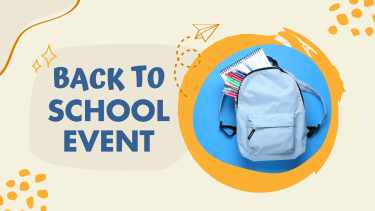 Back to School Event
July 22, 2022
September can be a month of anxiety and stress for families as it presents the back-to-school season for children. On August 27th, the Abbotsford School District, in partnership with the Abbotsford Food Bank, Hope City Church, The Salvation Army Centre of Hope, and Relate Church, will host the 4th annual back-to-school event to support families in need. This event will provide each child with a backpack of school supplies, hygiene products, a hamper of dry goods, a hamper of perishable items and a $25.00 gift card for Superstore. Over the last 4 years, this event has supported over 20,000 children in the community.
"A recent survey noted that the average Canadian family spends $709 on back-to-school supplies," said Andrea Senft, Manager of Community Partnerships. "This is out of reach for many families. Our goal is to relieve parents of these costs' stress and anxiety while preparing children for the first day of school. We believe we are equipping children with better health, a better state of mind and a greater capacity to have a successful school year." 
In 2019, BC food banks recorded 124,713 visits, including 38,074 visits by children. This represents 30% of food bank users, where 14% were currently employed, and another 3% were recently employed. This event would not be possible without fantastic Community Sponsors, including:
Abbotsford Community Foundation
Aldergrove Credit Union
Breese Laser
Fidelity Investments
Fruiticana
Goldmine insurance
Novo Dental Centre
Raymond James Financial
The Punjabi Patrika
Punjabi Travel
Townline Insurance
Woodlawn Funeral Home
Walmart Canada
Numurous individual donations and the support of Rick Hansen Leadership Students Pari Khanna and Keshaw Dubay.
This is a registered event only. If this program can support your family, please complete the registration form by Friday, August 5th at midnight. Please note: the school district will accept registration up until this date or until the event is at capacity. Event details and how to register are listed on the registration form.
Should you require any assistance, please contact backtoschool@abbyschools.ca or call 778-880-8554.